John Ferneley College Join EMTTP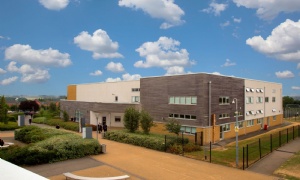 We are delighted to announce that John Ferneley College has agreed to work in partnership with EMTTP.
Earlier this week we met with Lara Hall, Head of School at John Ferneley College in Melton Mowbray. We were welcomed warmly at the school as we discussed both our Initial Teacher Training and our NPQ provision. The outcome of the discussion was very positive and we are delighted to say that moving forwards, the school have agreed to be a partner with EMTTP. Having such a vibrant, successful school in our partnership is clearly good news for us, but it also means that we can more readily support ITT applications that we may receive from the East of Nottinghamshire and North East Leicestershire, with a local host school in which to train. It is hoped, therefore, that the community within and surrounding Melton Mowbray will benefit from this partnership too.
John Ferneley College is part of the Mowbray Education Trust and we are looking forward to discussing our provision with the Trust in the near future.